iWriter Pro | Frequently Asked Questions
What is the difference between iWriter and iWriter Pro?
The Pro-features, such as: Markdown editing and preview, LaTeX preview support and many other.
Does iWriter Pro have a URL scheme?
For now, x-callback-url schemes are not supported.
How can I save my document? I can't find a save button.
iWriter Pro implements autosave. You should not care about document saving. All changes are saved automatically.
I want to know more about MultiMarkdown.
Great! Please follow this link to MultiMarkdown Syntax Guide.
Does iWriter Pro support RTF?
You can use iWriter Pro for Mac to export your documents as RTF.
Is automatic theme switching supported?
Yes. Automatic theme switching works in tandem with the system's appearance settings. iWriter Pro "memorizes" chosen themes for both system appearance modes (Light and Dark). For manual appearance selection please navigate to:
On iOS: Settings > Display & Brightness.
On Mac: System Preferences > General > Appearance.
Can I restore a previous version of a document?
You can do that for iCloud documents. To browse document's versions:
Navigate to iCloud > iWriter Pro.
Press Select and choose the document.
Press the Versions button located in the top navigation bar.
How to discover keyboard shortcuts on iPad?
Attach the external keyboard to iPad.
Tap the editor's field.
Press and hold the command button (⌘).
How to find the Text Statistics and Shortcuts menus on iPad?
Text Statistics and Shortcuts are located on the system keyboard.
Enable the Autocorrection option in Settings > Text Editing.
Begin editing text.
The required buttons will be located in the top right corner.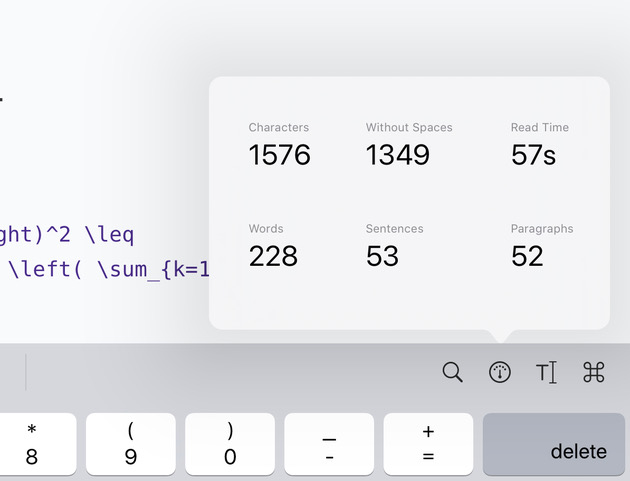 How to open a split-screen on iPad?
iWriter Pro supports the multi-window mode of iOS 13. You can use this feature to edit a Markdown document and observe its Preview at the same time.
Open two copies of iWriter Pro on iPad.
Open the same document on the left and on the right.
Activate Preview in any window.
Preview gets automatically updated, when you edit the document.
What about Dropbox support?
You will need the Dropbox app (on iOS and Mac) to be able to open and edit files stored there. The same goes for Google Drive and other 3d-party storage providers. Please note, some developers have incomplete support of iOS storage protocols, therefore you might be missing some features.
How to find the Dropbox folder on iOS.
Install the Dropbox app.
Open the Documents menu.
Tap the Ellipsis button (…).
Tap Edit.
Enable Dropbox.
I cannot insert image from the Photo Library on iOS.
You should use iWriter Pro's own folders when inserting images into a document. When you try to import an image using Photo Library or Camera, iWriter Pro saves it next to the document. iOS sandbox restricts access to 3d-party folders. To fix this behaviour you should copy you document to any iWriter Pro folder (local or in iCloud).
I get an error message when trying to rename a document.
Files located outside the iWriter Pro's own folders are impossible to rename from within the editor. This issue happens due to iOS security restrictions. They cannot be lifted via Privacy settings. iWriter Pro has full access to its own folders (local and iCloud). Those folders can be located by application icon.
You can rename files in other locations from within the Document Menu. Tap and hold on a file, then choose Rename.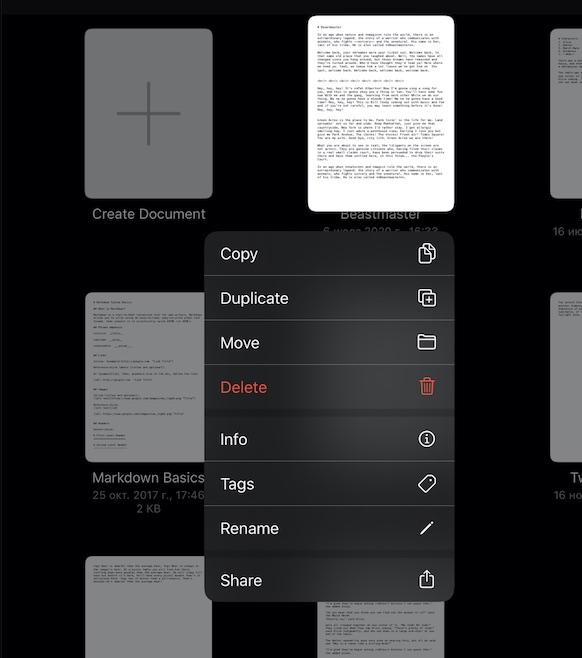 Is there a Mac version?
iWriter Pro for Mac is available here.
Where can I find privacy policy for iWriter Pro?
You can read it here.
I have another question…
If you have a question that is not covered here, and we'll answer as best as we can. We take a break on the weekends, but during weekdays we aim to reply within 1–2 business days. Please note that the more detailed your description is, the quicker and better we can answer. The device model, correct app name, OS version, or screenshots will also help a lot.
I have a feature request…
You can send your request via e-mail . Please note that not all features can be added to the final product. Leaving a one star comment on the App Store while asking for a feature has never helped anyone.